'POSCO the Great', which carries the meaning of 'creating the great POSCO' is
A theme beloved by Korea citizens for being able to make constant contributions to national economic development and to be admired by citizens of the world by instilling new values. 'Innovation POSCO 2.0', which becomes the foundation for achieving POSCO the Great, is about going back to the basics, removing complacency and appearance, and 2.0 means that POSCO is becoming #1, as the top new company.
POSCO will create customer value through new ideas and all staff and executives will work in unity to endeavor to become the world's best in all businesses following the same vision.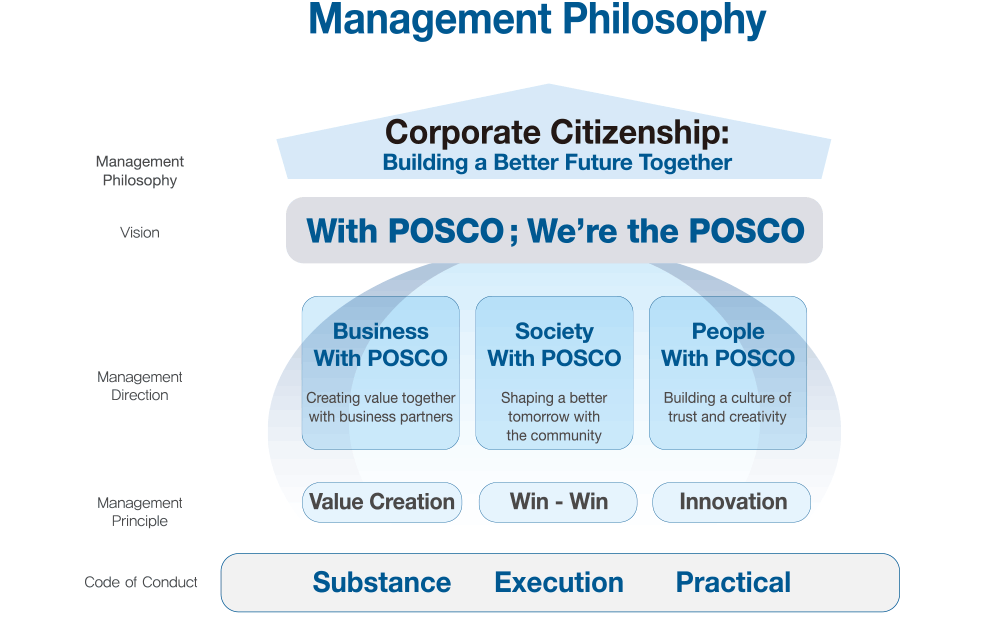 Vision
New Vision System
POSCO THE GREAT
The Most Respected & Beloved Company Globally
Innovation Agenda
Innovation POSCO 2.0*
01 Reinfocement of steel core competitiveness
02 Selection and concentration of new growth businesses
03 Innovative improvement of financial structure
04 Management Infrastructure Renovation
Management Philosophy
Harmonious Management One POSCO(We are all one)
Creative Management Creative POSCO(Creative ideas)
First Management Top POSCO(Striving for the world's best)