With the Kyoto Convention in effect since February 16th, 2005, efforts to reduce greenhouse gases have been strengthened. POSCO completed establishment of the Carbon Management System meeting international standards in December of 2005 and created a base to participate in the Kyoto mechanism. The company also participated in the Asia-Pacific Partnership Steel TF to strengthen international cooperation in reducing greenhouse gases. In addition, energy used in the integrated steelmaking process has been reduced, while new processes and technology for capturing CO₂ are being developed as well.



POSCO is promoting energy reduction and innovative technology development to reduce greenhouse gases in the steelmaking process, as well as CDM* projects to reduce social greenhouse gases. Also, the company has entered into a voluntary agreement to reduce energy use with the government and participates in IISI* and APP* initiatives, strengthening cooperation domestically and internationally.
* CDM (Clean Development Machanism)
* IISI (International Iron and Steel Institute)
* APP (Asia Pacific Partnership)
Goal
Secure global climate change leadership
Strategy
1. Reduce greenhouse gas emission in the workplace
2. Reduce Social greenhouse gas emission
3. Climate change policy cooperation
Execution Plan
1.1 Carbon Management System operation
1.2 Adopt energy recovery & curb energy use
1.3 CO₂ reduction innovative technology development
2.1 Renewable energyㆍCDM project promotion
2.2 Indirect CO₂ reduction through spreading of high-function steel

3.1 IISI Sectoral Approach participation
3.2 Asia-Pacific Partnership Steel TF participation
3.3 Voluntary agreement for energy reduction ('04~'08 target 1.04 million TOE)
3.4 TF of KISA for UNFCCC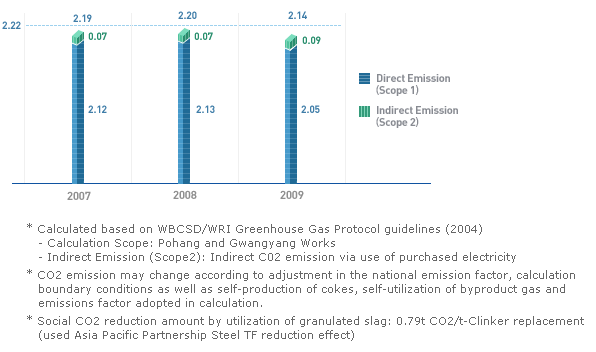 The steel industry is a major energy consumption industry, yet POSCO's process is very energy efficient. Therefore, there are limitations in reducing greenhouse gases simply through energy reduction activities. POSCO is thus promoting the POSCO CO₂ Breakthrough Framework, a mid- to long-term technology development project to innovatively reduce CO₂.